Summary:
For the week our high temperature was 46° and our low was 15°, we measured .39 inches of precipitation;  there may be more as I just realized I did not turn the rain gauge heater on for our snow. I measured just over 7 inches of snow in our backyard from Thursday's storm, with the official reports from the O'Fallon, MO area coming in around 6-1/2 inches.
Outlook:
Seems Winter has returned to the area…I wouldn't expect any temperatures above the mid 40's early on dropping into the 30's after Tuesday, our low temperatures are being influenced by our snow cover, expect lows to range from the mid teens up to the upper 20's.
Another Winter storm moves in during the Monday-Wednesday time frame;  at this time I would look for 2-4 inches of snow. Like the last storm, we are on the border and these amounts could change significantly with a southern shift of the storm track.
Below is the a map showing the 3 day outlook for 8 inches or more of snow, this map is from the Hydrometeorological Prediction Center.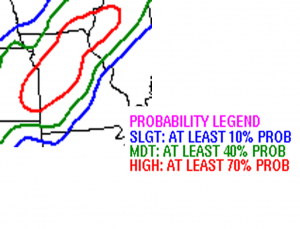 As always, to get my up to date weather discussions, check out O'Fallon Weather on Facebook